Hey guys.. just thought I'd share a little info about a project I'm working on while waiting for the BMC.. it certainly helps with that
Last week I finally got the Point Grey USB3 camera head (normally for industrial use) which has a 1/2.5" Sony Exmor CMOS built in and takes lenses with C-Mount. I already started to work on my own software using their SDK before that, but of course couldn't be sure about the quality I'd get from the camera because of the lack of any demo footage/raw framegrabs.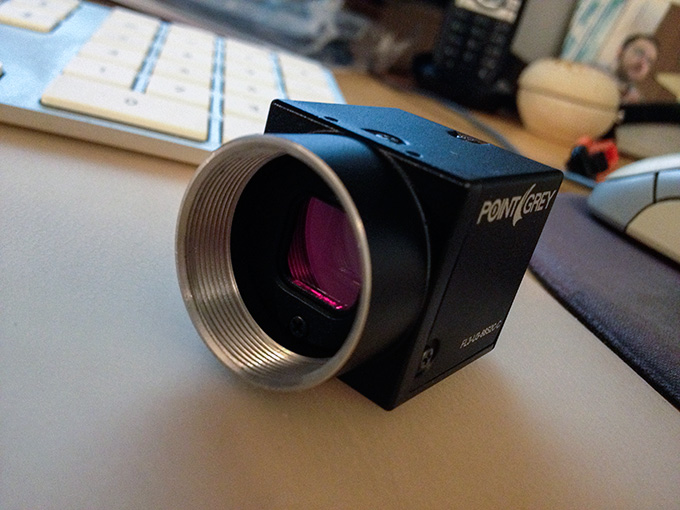 Over the weekend I experimented a little with capturing footage - directly to SSD the data rates are no problem, the sweet spot is seemingly 200 MB/sec: the electronics and/or sensor in the camera head can't handle more data troughput unfortunately. The 200 MB/sec is no problem at all for any decent single SSD.
So with that I'm currently able to get a 3200 x 1800 pixel raw 12-bit frame at 24fps or when using binning (pixels are connected to groups) I can use the whole sensor for 2048 x 1080 pixel raw 12-bit at max 60fps. At 3,2K the rolling shutter is about the same as with a 5D Mk2, at 2K using binning it is (thankfully) nearly non existent (roughly on par with Red One MX)!
The max resolution if you go with only 8 bit is 3728 x 2096 at 24fps (using almost the full sensor), but then you obviously got very little headroom for grading.
It's quite fun to have such a little camera head on a 5m cable - reminds me very much of the SI-2K.
The dynamic range is about 11.5 f-stops, so (of course) it's not in the BMC ballpark. But still it's such a great thing to get real raw data and without any sh*tty camera electronics or compression in the way even at 24db analog sensor gain (max) you get quite a decent picture - of course theres noise but it looks quite organic.
Another thing I have to take care of myself that way is bad/stuck pixels, every sensor has a few of them. That's the downside to just getting a sensor "dump" basically
Right now I'm working on the code to safe the raw data for each frame in a Cinema DNG container so that I can use the usual "high quality" tools to process the footage. And taking a noise/bad pixel "footprint". We'll see how complicated that will get - if and what kind of profiles or further meta data is required for Adobe Camera Raw etc. to do a good de-bayer.
Keep you posted...